Water Feature Lysterfield
Water Feature Lysterfield – Landscape Design
Water features, water falls, ponds, dry creek beds, pool landscapes, creeks, frog ponds and water sensitive landscape design we can include in landscape designs
I would like a waterfall that looks like this – my client told me after researching water features and sending me this water fall image.
I thought he must be out of his mind; how are we going to build this on a Melbourne suburban block.

We had done quite a bit of work for this family; paving to front and rear gardens, an entrance stairway to the street frontage, brick edging, turfed lawns, automatic sprinklers, planting and other works.
He was a nice guy, loved his garden, was determined, motivated and wanted a water fall in his back garden.

He worked for a large company and could supply the pumping equipment and wished to be actively involved.

Some time later he called me and wanted me to visit him as he sold the property for over a million dollars.

I asked him if his belief in water features had helped achieve that figure.

His response was; yes that is why we achieved it and being the sort of person he is gave me a generous gift.

It is great when you work with good clients as that is how you get great landscape designs.
Water Fall - Site Location
The site had a steep slope and at the lower section of the back garden our client had built an elaborate gazebo which we had paved under.
He telephoned one day and said, 'I am ready to build the pond and water feature'.
I questioned him as to whether he had established what he wanted and he said – 'well yes in a manner, I have some pictures to show you'.
We organized a meeting – the picture of the natural water fall is one of the photos he shared with me as my eyes rolled back.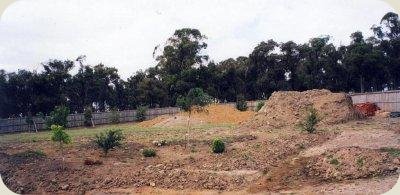 We developed a sketch plan to make certain the sketch conformed to his ideas and double checked measurements; height of the waterfall itself, spillway length, width, fall, the base pond location and size. Landscapes By Design then redrew the sketch to produce our concept.

Our checklist included drainage requirements. All ponds should have an overflow drain the height of which effectively sets the water level.

Electrical requirements to operate filtration equipment the pump and lighting was considered as was water supply and a float valve had to be included to automatically maintain the water level – evaporation on hot days can decrease water depth by 10 mm or more.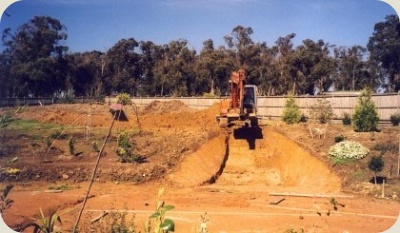 Water Feature Structural Details
Base pond – 12 by 5 metres
Spillway recess – 5 metres
Spillway width – 2.5 to 4 metres
Spillway fall – 1.5 metres
Waterfall drop – 2.2 metre
Waterfall width 2.4 metres
Total water volume – 15,000 litres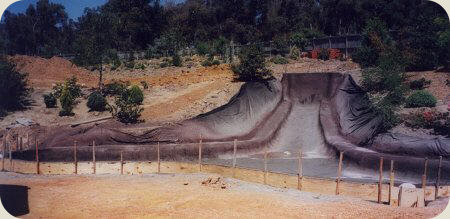 The pond built like a swimming pool was reinforced with Y12 (12 mm diameter) deformed bar in a 300 mm square grid. In all places where the concrete base pond lifted a 300 mm by 300 mm concrete filled and reinforced 'stiffening beam' was located. The base of the waterfall itself had a similar footing and behind it an agricultural drain was installed.
The outside edges of the spillway and the back of the pond had formed into them 500 mm wide concrete ledges to be used later to position boulders onto.
The entire pond was built from 150 mm thick concrete and sprayed in place as is the method to construct a swimming pool.
Once the concrete was sprayed the boulder placement work commenced. The boulders were all hand selected and delivered to site. They were placed with a backhoe and sling and where necessary mortared into position on the concrete rock ledges and spillway. This is one view of the completed waterfall to the left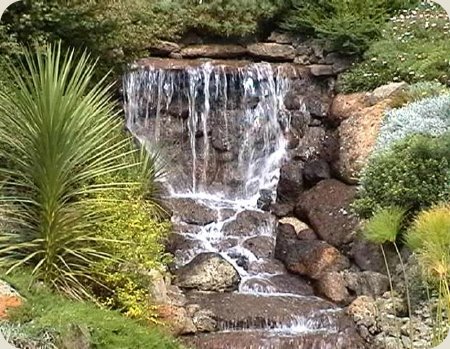 Following boulder placement imported soil was placed, selected vegetation was planted and the surrounding area mulched. One trick with a water feature of this size – the pumps installed were variable flow meaning the volume of flow could be controlled.After the concrete had cured and the ph was at an acceptable level water plants in containers and fish were incorporated finishing our project. Our client had a mind of his own when it came to plants.
During his life he had built and planted several beautiful gardens. He had planted most of this property and to his credit continued on with the water feature, as was his style.
As a landscape designer I love it when people become as actively involved as he did. We shared the input and each contributed to producing a spectacular water feature that gave us both great pride.
If you have any questions or we can assist you with your project or a water feature; please do not hesitate to make contact.