Dry Creek Bed Taylors Hill
Dry Creek Bed Landscape Design
Our dry creek bed landscape design, landscape construction project using butyl liners, water tanks, landscape ponds, water saving techniques in Melbourne. 
Great landscape designs we have completed have come about when working with a great client. 
We have many great landscape projects not shown on our web site. Some have not been started and others not completed as yet.
Other landscape projects are older having been completed over the years.

These clients are really lovely people with a passion for gardening, their home, family and life. They love their garden and actively look after it.
It is a great garden, quite different and unique.

We visited the garden recently and have provided some updated pictures at the bottom of this page.
The before images show although these people had a 40,000 litre water tank, during the drought their garden was failing.
Apart from that, this garden taught me traditional gardens sometimes are not the way to go. Sometimes we need to think outside the box.
There had been some great plants used but lots were dieing. The dream garden had not become a reality, rather it was a disappointment.
This couple had a beautiful home, a family, wanted a garden to enjoy and were prepared to spend the money, be totally involved and put in lots of hard work.
We achieved something.
Award Winning Landscape Design – Dry Creek Bed
This dry creek bed landscape design won the 2012 AILDM – Australian Institute of Landscape Designers and Managers – Landscape Design Awards in the category – ENVIRONMENTAL DESIGN and was Highly Commended in the category – RESIDENTIAL DESIGN – $50,000 – $150,000
Dry Creek Bed Before Images - Click to View
Dry Creek Bed - Landscape Design
Despite having a 40,000 litre under ground water tank, this retired couple who loved their garden and had spent a lot of time and money on it remained disappointed and frustrated. They were disenchanted with the central lawn area and wanted solutions that would enable them to share their garden with family and friends into the future.
They asked me what could be done to 'make their garden work'. The solution required serious innovation and commitment.
The property located in the outer western suburbs of Melbourne is in an area that is  drier than Melbourne itself.
Within some other landscapes designs due to the drought lawns were no longer really viable and we had used Dry Creek Beds and the like.
This project meant we had to harvest water. This is a truly beautiful garden and at the bottom of the page are some images two years or so on.
It was decided that the central lawn area was not sustainable. My clients would use the tank water to keep the outer garden areas alive but the central lawn area would undergo dramatic change. We needed a garden that was not just water wise and full of great features – it had to also collect water to be sustainable.

I wanted to capture rainwater and direct it through a series of pits and storm water drainage pipes under a bridge.
My plan was to use butyl liners under river pebbles in the top area to collect it.
The collected water flows to a bottom pond but under it and concealed is an additional 5,000 litre underground water tank which when full allows that water to be directed to the existing underground 40,000 litre water tank at the front of the property.
When the 40,000 litre existing tank is full, the 5,000 litre new tank fills and when both are full the bottom pond fills.
The soil from the existing lawn was re-used. Where a small amount of lawn was still required we planted the very resilient Sir Walter Buffalo grass.
The balance of the area was either river pebbles on the butyl liner collecting water or granitic sand. We even installed a bocce court.
Everything is now irrigated through an automatic controller and drip line irrigation and my client monitors its operation continually.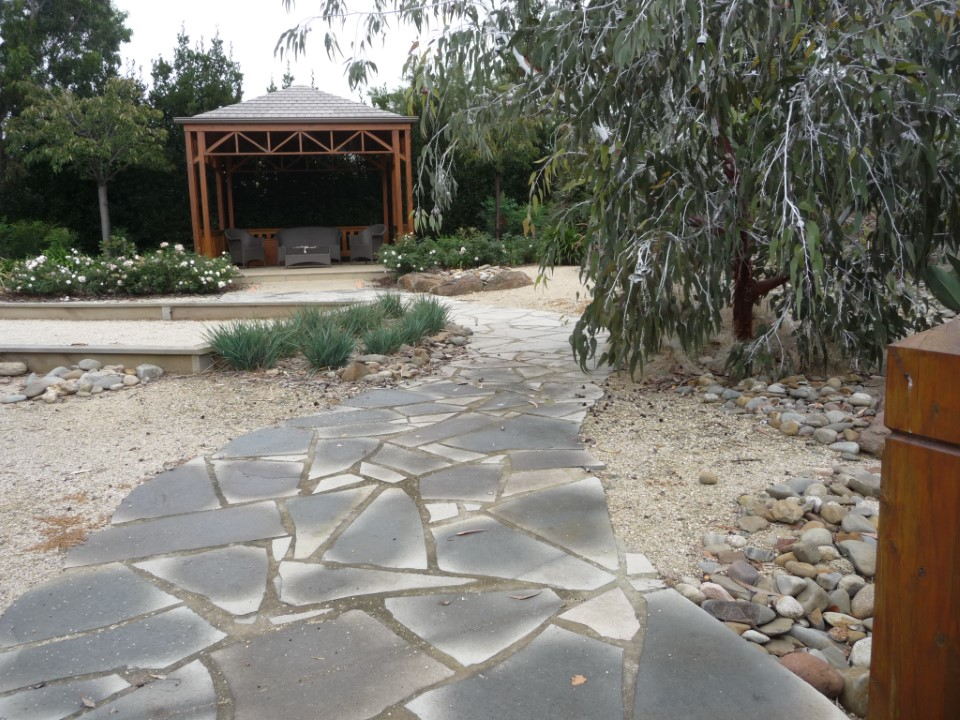 Whilst it was challenging to come up with and install the butyl liners, drainage pits to collect water, PVC collection pipes, the tank and make everything work, it certainly has been worthwhile.
Decorative features such as the timber bridge, the bocce court, large feature boulders and crazy slate paving for the path are just an added bonus as is the rear covered pergola my client had previously installed.

Our landscape design was unique. My clients had the vision to embrace the ideas and the landscape contractor we chose had the skill to build them.
This Water Sensitive Urban Design harnessing the rain is a solid success.

An area of failing grass has been replaced with a thriving and original landscape with ducks swimming in the foreground, the frustration and disappointment replaced by passion and satisfaction.

If you need help to solve problems, construct your dream garden or perhaps require a water feature then make contact.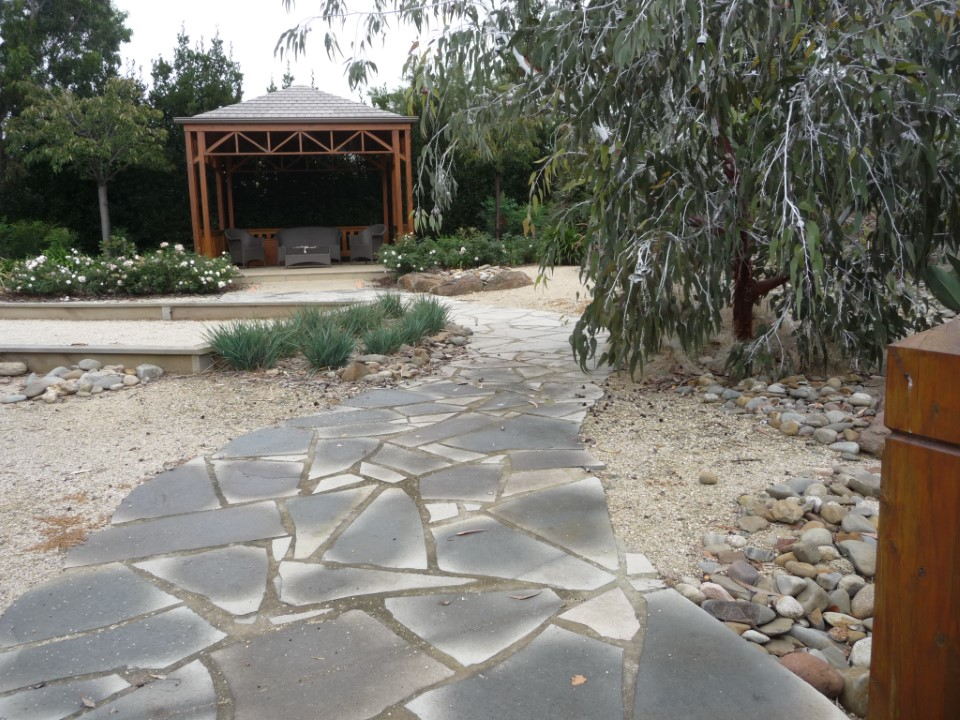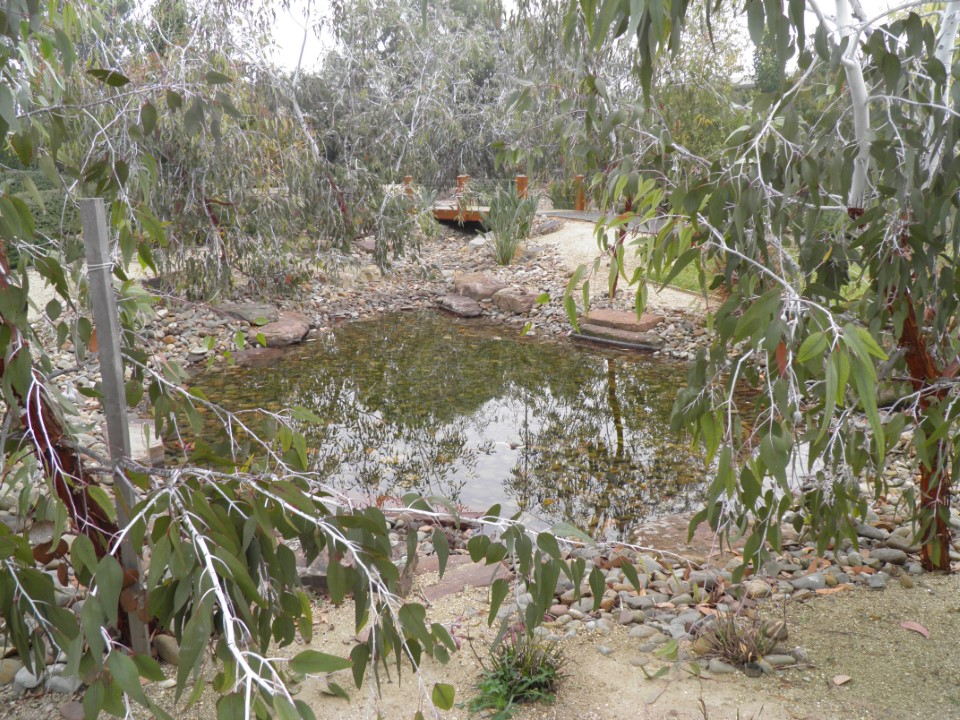 This featured garden is typical of our work and was deserving of the awards it won.
The clients great to work with as was the landscaper we organised to build it.
It Won AILDM's – The Australian Institute of Landscape Designers and Managers 2012 Environmental Design Award and was Highly Commended Residential Design $50,000 – $150,000 for 2012
Briefly, the landscape design captured water using butyl liners under a dry creek bed, fed that water into a 40,000 litre water tank and when it was full into another 5000 litre water tank located under the pond.
When it fills, the base pond fills.
Click Through the Images to View
Dry Creek Bed – A Couple of Years Later